Beryllium bronze explosion-proof tools use and maintenance instructions
---
The world-recognized beryllium bronze explosion-proof tool specimen is a combination of military materials and precious and rare metals, and the surface is golden yellow after the tool is made.
Instructions for Use and Maintenance of Beryllium Bronze Explosion-proof Tools
1 and The world-recognized specimens of beryllium bronze explosion-proof tools are composed of military materials and precious and rare metals, and the surface of the tools is golden yellow.
2 , working face hardness HRC35 above, tensile strength & b105-120kgf/m ㎡ .
3, are continuously and rapidly used in flammable gas hydrogen (concentration 21% ) space to ensure safety, and no spark explosion is generated by impact (collision), friction and drop hammer.
4 . All kinds of tools shall be cleaned of oil stains on the surface before use. Use steel tools with reference to this manual.
5 , after the use of wipe surface dirt and accumulation, placed in a dry storage.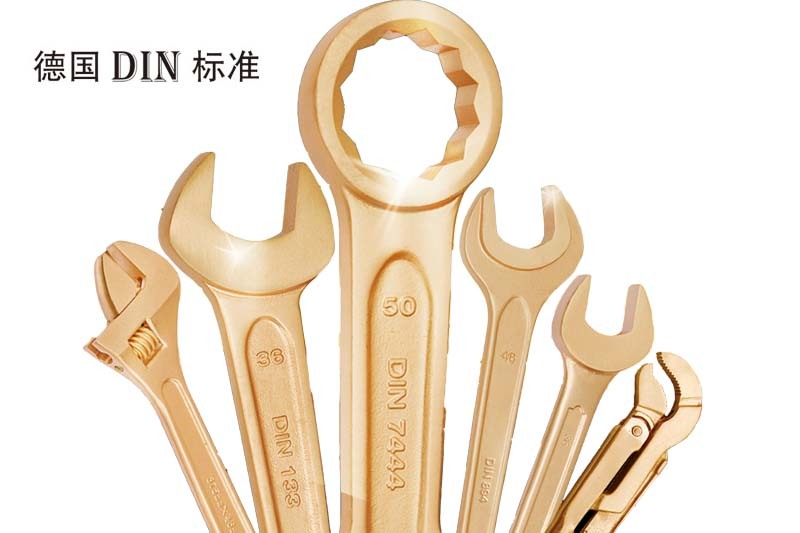 6 . Percussion tools and products cannot be hit continuously. There should be an appropriate interval for more than 15 times. At the same time, the debris adhered to the hit part of the tool should be removed in time before continuing to use.
7 . Wrench products cannot be used with excessive force, nor can they be used for knob fasteners by using sleeves or binding other metal bars to lengthen the force arm, or by tapping with a hammer (except for tapping wrenches).
8 , cutting edge tools should be placed in the water tank to gently contact the grinding wheel for sharpening, not too hard and contact the grinding wheel for too long.
9 , in the actual operation of knocking and smashing tools, sundries on site and oxides corroded on the working face must be removed to prevent third party impact.
10 , beryllium bronze explosion-proof tools have special anti-magnetic function and can be used normally in a magnetic field working environment.
Our company in a warm, thoughtful, civilized business purposes, to provide customers with satisfactory products and excellent service.